Michelin accuses Maxam Tire of infringing a design patent on pneumatic tires, D610,073, by Maxam's importation and sale of ties for mining vehicles.  The '073 patent claims a particular tread pattern on the tires.  Michelin says that the '073 patent covers its XDR and XDR2 S tires, and also asserts trade dress infringement on the "overall nonfunctional design" of the tread.
| | |
| --- | --- |
| | |
| Michelin XDR | Michelin XDR2 S |
Maxam, which makes tires for construction, agricultural, and industrial vehicles and the like, sells an MS403 line of tires.  Michelin says that the MS403 tread pattern infringes both the '073 patent and the trade dress.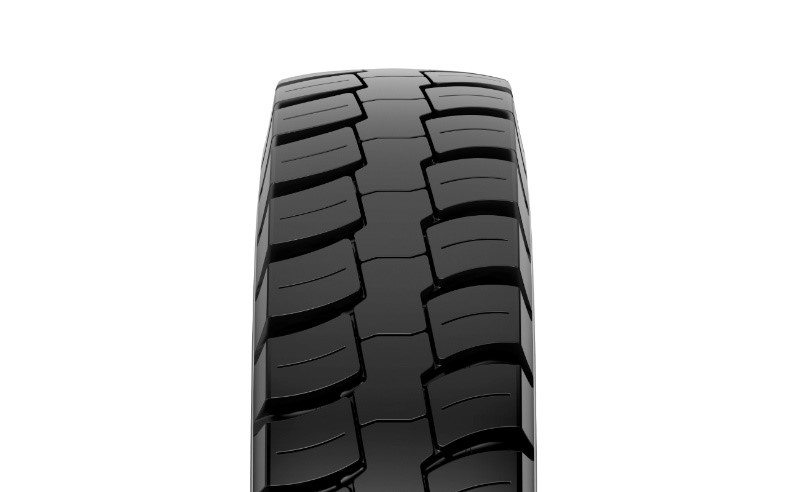 MS403 Tread
Michelin asserts that the tread design is non-functional, a necessity for the validity of both design patent and trade dress protection – both regimes prohibit the protection of "functional" features, although the standard by which functionality is determined differs between the two.  Trade dress is functional when the claimed design is essential to the purpose of the article or affects the cost or quality of the article, or when it is competitively necessary to use the feature of the design in the relevant market.  When analyzing functionality of a design under the design patent standard, courts apply a much stricter standard, namely whether the appearance of the claimed design is "dictated by" the use or purpose of the article.  The existence of alternative non-infringing designs effectively renders the patented design non-functional, and the result is that design patents are rarely found invalid as functional.
The '073 patent was filed on June 16, 2009, and issued without a substantive office action on February 16, 2010, a mere eight months after filing.  This is much quicker than a utility patent, which on average takes a bit more than 23 months from filing to issuance.